HMS WILDFIRE ROYAL NAVAL RESERVE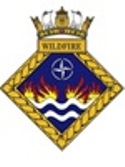 HMS WILDFIRE was the first Headquarters Ship in the RNR. The unit was formed and housed within the UK's National Defence Headquarters; HMS WARRIOR, now JSU Northwood, in North West London. Originally commissioned as HMS NORTHWOOD in 1959, the unit was renamed HMS WILDFIRE in 2000.
In 1988, the unit moved from old Nissen huts within JSU Northwood to Brackenhall House, an Edwardian Mansion situated across the road from the main gate. In 2011, the unit moved back into Northwood taking over a refurbished building.
HMS WILDFIRE continually supply a steady stream of reservist specialist personnel to the regular Navy whenever required and recruits mainly across Bedfordshire, Hertfordshire, Berkshire and Middlesex.
The present HMS WILDFIRE is the 9th in the series of ships and shore establishments bearing the name:
HMS WILDFIRE , originally a Fire Vessel of 64 tons built in Yarmouth in 1766 and bought by the Royal Navy in 1804. Sold in 1807 and broken up.
HMS WILDFIRE , wooden paddle packet of 186 tons. Built in 1826 at Harwich for the Post Office. Purchased by the Royal Navy in 1838 and sold in 1888.
HMS WILDFIRE, steam Yacht Tender of 453 tons built in Leith and originally named 'Hiawatha'. Renamed 'Wildfire' in 1888. Sold in 1912.
HMS WILDFIRE, nymph class Sloop with a displacement of 1,140 tons. Built in Portsmouth in 1888. Renamed 'Wildfire' in 1906 serving with the gunnery school at Sheerness. In 1908 she was the general depot ship at Sheerness. In 1914 she was pressed into service with the Dover Patrol and earned the Battle Honour 'Belgian Coast'. In 1916 Wildfire relinquished her name and became 'Gannet'.
HMS WILDFIRE, a 74 gun third rate with the name of 'Cornwallis' and launched from the Bombay Dockyard in 1813. Renamed 'Wildfire' Base Ship in 1916 on succeeding as general Depot Sheerness. She was paid off in 1922 on the closing of the Depot.
HMS WILDFIRE , a stores building in 1821 within a Naval stores establishment at Sheerness. This facility became a Naval Depot in 1908 and was closed in 1922.
HMS WILDFIRE , the Building was decommissioned in 1937 as a Boys' Training Establishment and vacated in 1947. However, the building was reopened in 1954 as an accommodation centre, finally closing in 1959.
HMS WILDFIRE , an RNR Headquarters unit formed at Chatham in 1964 and de-commissioned in 1989.