ROYAL MARINES RESERVE CITY OF LONDON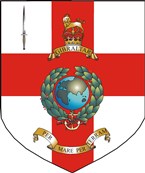 Background
The Royal Marines Reserve is the youngest of the reserve force formations and was formed under the Royal Marines act of 1948.
On 5th November 1948 a ceremony marking the occasion was held in Bunhill Field on the HAC ground, in the same place as where the Royal Marines were originally founded 274 years before.
An identical ceremony marking the formation of the Royal Marines Volunteer Reserve was held in the City of Glasgow.
The name given to the new formation was The Royal Marines Volunteer Reserve (RMVR) . Most but not all of the original cadre of recruits were veterans of reserve service with Royal Marine units during WW2.
The London Unit
The new unit was initially divided into three wings; small raids, amphibious commando and sea service. The unit was based at the White City. In 1969 a detachment was formed at Chatham and in 1989 a second detachment was opened at Henley-on-Thames.
The Headquarters moved from White City, W12 to the Drill Hall in Old Jamaica Road, Bermondsey, SE16 in 1972. On termination of the lease the unit moved to Southfields, a large training centre vacated by the Regimental Headquarters of 31 Signal Regiment.
Members of RMR (City of London) have supported their regular counterparts on all forms of operational service since 1963.
Battle Honours
The Royal Marines do not display their Battle Honours on Colours or drums. The one exception is the Battle Honour Gibraltar marking the capture of the Rock in 1704 and worn on the cap badge. Also displayed at the centre of the cap badge is the Globe presented by King George IV in 1827 recognising the Marines worldwide service in all major engagement thereby avoiding the need to list individual Battle Honours.
Colours
The London Unit does not hold Colours as it is only Royal Marine Commando units that are presented with Colours. However, a set of Colours originally presented to 42 Commando are laid up within Stationers Hall in the City of London. RMR (City of London) has a formal affiliation with the City of London.