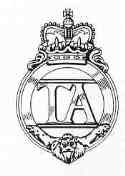 The Ever Readies
The Army Reserve Act of April 1962 made provision for a special category of reservists from the Territorial Army to be known as the Territorial Army Emergency Reserve (TAER).
The Act gave serving territorials the option of joining the TAER, and thus the opportunity to serve with the Regular Army anywhere in the world should the need arise. In the meantime, the individual soldier would remain with his TA unit but under the provisions of the Act. Signing on for TAER waived the normal restrictions on mobilisation in force at the time, and call out could be immediate hence the nickname coined by the Armed Forces Minister at the time, the 'Ever Readies'.
In return for this commitment the soldier was offered an annual taxable bounty of £150 with a further £50 on call out. Other benefits included the opportunity to train abroad with the Regular Army, in locations including Libya and the Far East.
Apart from being an efficient trained soldier, the only other criteria for acceptance in the TAER was dictated by the number of vacancies allocated to the parent unit. If the allocation was full the volunteer was placed on a list waiting for a vacancy at his particular rank.
In 1965, the 1st Battalion The Royal Sussex Regiment was deployed to Aden for operations in the Radfan Hills. The ending of National Service amongst other things had left that Battalion understrength by one Rifle Company. On 14th April 1965, 175 Ever Readies were called up for service in the Middle East, the Far East and Cyprus and 123 would join 1st Battalion The Royal Sussex in the Radfan Hills in a largely counterterrorist war that became known as the 'Aden Emergency'.
Most of the Territorials involved were from infantry units in the Home Counties, including 40 soldiers from 5th Battalion The Royal Sussex (TA). The remainder were drawn from the 3rd Battalion and 4th Battalion of the Queen's Surrey's (TA) and the 5th Battalion The Middlesex Regiment, the majority coming from units with Drill Halls situated in what is now the Greater London area.
After one month's intensive preparatory training at the Home Counties depot in Canterbury, the Ever Readies went out to Aden arriving on 27th May. After a short period of acclimatisation, they took their place with the Regular Battalion, which was undertaking internal security duties and counterinsurgency operations against hostile tribesmen. It was during such an operation that Lieutenant Jock Smith of the 5th Middlesex won the first Territorial Military Cross since WW2. The group returned home in October 1965. The use of the Ever Readies was hailed as a great success, although they were never used again. The TAER disbanded in 1967.